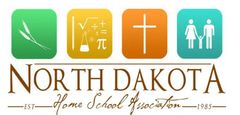 Welcome to the North Dakota Homeschool Association
Our site is dedicated to bringing you up-to-date information for homeschooling in North Dakota. Established in 1985, the NDHSA supports all private parent funded, parent directed home education.
Statement of Intent to Homeschool
The statement of intent to homeschool must be submitted yearly for each child, ages 7 and above. It is submitted to the superintendent of your school district, five days prior to the start of your school year. If pulling out a child from public school, you can begin homeschooling five days following the submission of the statement of intent.
Since 1985, the ND Homeschool Association has been fighting for homeschool freedom in the state of North Dakota. Through many legal battles and legislation, we have achieved the right to homeschool in the state of ND with limited government intrusion. Click below for the most recent version of the ND Century Code related to Home Education.
Our publication provides you with all you need to know to homeschool in ND in one convenient place. Available as a PDF to print.
Homeschooling is better with friends! Click here for a list of statewide support groups & co-ops
Monthly e-newsletter of the NDHSA
Become a member of the NDHSA today!
For $45 per family per year, you can help us support homeschooling families across the state of ND. In addition, you will have access to
special savings at retailers nationwide
when you use your NDHSA Teacher ID. A welcome packet, including your teacher ID card will be mailed to you upon renewing or becoming a member of NDHSA.